Better for All: Our Philosophy
Allpack's core mission is to deliver sustainable, efficient packaging solutions, offer innovation in product design and deliver transparency across the packaging supply chain for our partners.
Whether developing plastic-free, sustainable packaging systems, or creating educational resources for disadvantaged communities, Allpack endeavours to place both social and environmental concerns at the core of its mission statement. We have produced a company philosophy that is underpinned by the principles outlined below.
SUPPORTING EDUCATION
Read about our support of the TITAN PARTNERSHIP, who are transforming young lives by unlocking potential, raising aspiration and developing the skills for success.
Read more...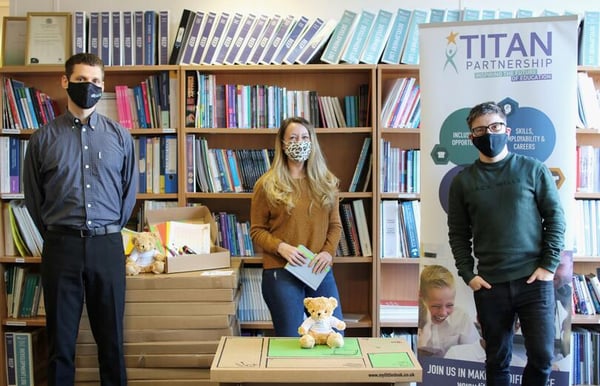 Mutual Respect and Support
Since its inception, Allpack has always emphasised the value of mutual respect and encouragement across its departments. By valuing each team member's existing attributes and potential for growth, a culture of support and ongoing mentorship can be achieved.
As a company, we're committed to supporting the growth of every member of staff and providing means for both professional improvement and interpersonal skills development, aligning with the core duty of treating every member of the team with dignity and respect.
Human Rights
Building on our key values of mutual respect and support, Allpack remains committed to respecting the human rights of both its staff and partners. Accordingly, Allpack will refrain from engagement in business practices or activities that may compromise fundamental human rights at any level.
Working Conditions
Allpack is committed to ensuring staff are afforded comfortable working conditions, equipping both warehouse and office environments with equipment and protocols necessary to ensure a responsible working space is maintained for all staff.
Suppliers
We seek to produce lasting relationships with our key suppliers and contractors, sourcing suppliers who share our core values and maintain respect for upholding ethical employment practices, quality of service and environmental controls. We seek to communicate this ethic to our suppliers on an ongoing basis, maintaining a coherent set of values across the value chain.
Code of Ethical Policy
Allpack is committed to ensuring the highest standards of ethical and environmental trade practices, which include the protection of workers' rights and the provision of a safe working environment for all its staff. Accordingly, Allpack expects its suppliers to operate with the same emphasis on ethical policy and environmental responsibility.
Health and Safety
We aim to maintain the highest health and safety standards and ensure the provision of a safe working environment for staff across all departments in all working activities, to ensure the long-term mental and physical wellbeing of our workforce. As such, we operate according to standards set out in an up-to-date Health and Safety manual, which is regularly reviewed and, where necessary, updated, accordingly.
Diversity and Inclusion
At Allpack, we believe diversity is a strength, and we're committed to respecting and honouring the dignity of our entire workforce, irrespective of colour, race, nationality, religion, gender identity, sexual orientation, age, disability, marital status or any other status. As such, we seek to encourage respect for each and every team member and their individual differences, with the ongoing aim of fostering a company culture that promotes inclusion and diversity across the entire business.
Environment
As a leading supplier of packaging solutions for nearly 30 years, we're committed to reducing the environmental impact of our business and introducing sustainable production and waste management systems across the company. Through education, research and product innovation, we seek to meet and surpass our environmental objectives and targets each year, creating procedures and policies and providing ongoing training to ensure our suppliers and staff are aware of the environmental responsibilities within the company.
Charity Partnerships
As a business, we feel we have a social responsibility to support charitable causes. In light of this, we have previously partnered and continue to support a number of UK-based charitable organisations, including Titan Partnership and The Grace Trust.
Titan Partnership, founded in 2000, offers teacher training routes and provides learning and employment opportunities to young people across Birmingham, aiming to enrich local communities and combat impoverishment, with a core focus on promoting equality, diversity and inclusion.
The Grace Trust is a grant-making charity that operates entirely from volunteer efforts, making funds available to a wide array of charitable causes across the world.
The charity provides Allpack with a valuable service, employing stringent selection procedures before providing grants to a chosen group, ensuring funds are maximised to do good and help improve lives.
Having supported over 500 charities since its inception, The Grace Trust also enables Allpack to support a range of national and local life-saving causes, such as The Air Ambulance Service, Lifeboats throughout the country, and the following.